Let's Get Ready to EAT!
EAT Detroit is back for its third year on June 27, and we don't want you to miss out! Eat and drink your way through some of Detroit's finest eateries! This one-night only food experience and fundraiser features some of Detroit's hottest restaurants, like Bar Pigalle, Cork & Gabel, Ima Izakaya, and Mad Nice. This delicious experience benefits SAY Detroit and our mission to provide pathways to success for Detroiters in need through learning, health care, and housing.
Learn more about the event at eatdetroit.info.
---
Employee Spotlight: Austin Crutchfield, SAY Play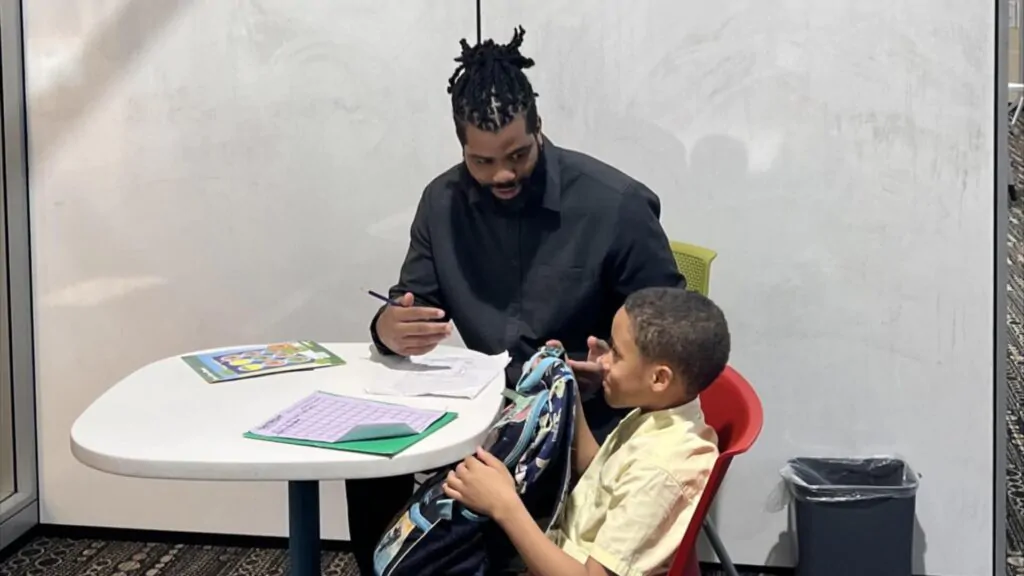 Some things are meant to be – and Austin Crutchfield and the SAY Detroit Play Center are one of those things. Austin's connection to SAY Detroit started back in 2020 when he was an undergraduate Biomedical student at Wayne State University (WSU). He was volunteering at Detroit Children's Hospital in the activity room and met several patients from the Have Faith Haiti orphanage and school run by Mitch Albom, who is also SAY Detroit's founder. The rest is history.
Now, a graduate student earning his Master's in Biomedical Physics at WSU, he works in the Digital Educational Enrichment Program (DEEP) at SAY Play. He has been a member of the team for three years, serving as a program assistant, volunteer coordinator, tutor, and mentor. Austin also helped design the S.T.E.A.M. curriculum to engage students after they have completed their homework.
Austin shared that the most fulfilling part of his role at SAY Play is giving students the one on one help they need to master a concept or skill. "I always try to rotate which kids get the individual assistance after small group work; you can see how that extra instruction builds their confidence."
---
Mental Health Awareness is an All Year Celebration at SAY Play
Young people are our future. In the aftermath of the pandemic SAY Play identified a need to support the mental health and wellness of our students. Throughout the recent school year, students in partnership with the WSU School of Social Work, had the opportunity to meet with a licensed counselor for individual check-ins.
SAY Play also created a weekly wellness series that focuses on conflict resolution, self-esteem, friendship/family dynamic, peer pressure and more. May is Mental Health Awareness Month, but at SAY Detroit, we make sure to prioritize mental well-being throughout the year.
---
Volunteers Give New Life to Abandoned Home

SAY Detroit values its community partners, especially when they lend their muscle along with their heart. That describes our partnership with GM, which supports our Working Homes/Working Families program through funding support and volunteerism. On May 18, a group of GM employees teamed up with our nonprofit's volunteers to landscape property around a formerly vacant home on Detroit's northeast side. The house is currently being rehabilitated and will be awarded later this summer to a family whose children attend the SAY Play Center, just a short walk away!
---
SAY Play Summer Camp
Are you counting down the days until summer? We are! The free SAY Play summer camp will run for six weeks starting in mid-July and hopes to host 100 students. The sunny summer days will be filled with both academic and recreational activities ranging from S.T.E.A.M. classes to music and art. The weekly field trips will provide a mix of college tours and playful excursions.
---
Mi-Cycle Bicycle Collection!
Do you have an unused bicycle sitting in the garage? Donate it to SAY Detroit's Mi-Cycle on Saturday, June 3, at The Somerset Collection in Troy. Our team will be waiting in the valet parking area behind the north side of the building (parking deck, ground level) from 10 a.m. – 2 p.m.
We will repair the donated bikes and give them back to those in need within our community to use for transportation and recreation. Thank you and see you Saturday
Love what you're reading? Help us keep it going!