Today marks the start of Sexual Assault Awareness Month, a campaign to increase awareness about the realities of sexual assault and violence, and to educate about how to prevent it.
Mitch Albom andS.A.Y. Detroit have taken a very visible stand on this and support organizations that help survivors of rape and sexual assault, and take active measures in the education about and prevention of such crime. At last month's press conference distributing the funds raised during the 2016 Radiothon, three organizations were featured that directly work in this area. While many of the issues surrounding rape and sexual assault are intersectional, it is vital to fund and support programs that are particularly focused on supporting survivors.
SASHA Center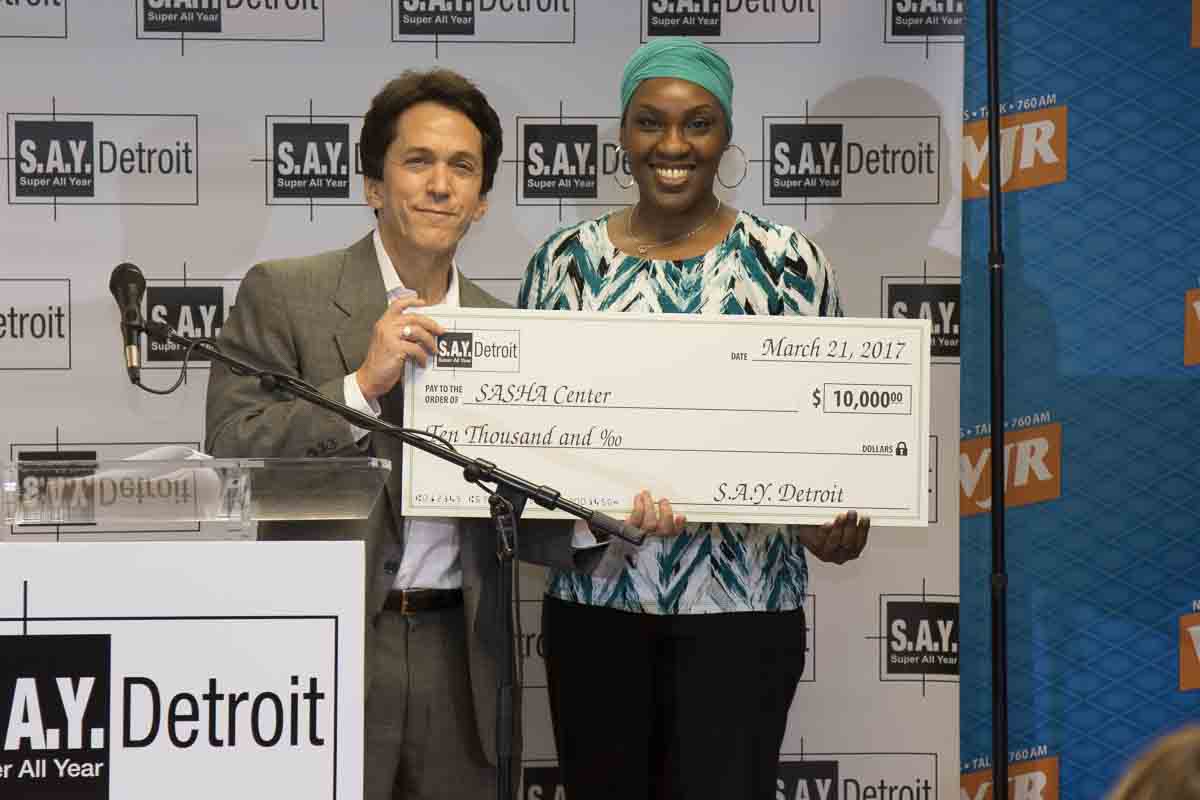 A first time recipient, the SASHA Center is a sexual assault services center for rape survivors in Detroit. A former adjunct professor at Marygrove College — and a sexual assault awareness consultant to the NBA — Kalimah Johnson opened the SASHA Center in 2010 after working for 15 years in the Detroit Police Department's victim assistance program. She noticed there was a big difference in how women got serviced based on how they looked and what their background was. Kalimah created SASHA in part to take shame and guilt away for survivors of sexual assault.
"This gift of $10,000 will assist us in creating sacred and safe spaces for survivors of sexual assault throughout Detroit and add more sessions to our calendar for survivors of sexual assault," Kalimah explained.
"Particularly, this funding will go towards helping us run our peer educational support groups including transportation to and from group locations, snacks for our meetings, space rental, facilitator training and payment, art supplies for group, and group programs for survivors to learn the significant historical relevance for the full integration of the traumatic experiences they have had as a result of sexual assault. The possibilities are endless!"
Vista Maria

For the second-straight year, S.A.Y. Detroit is supporting Vista Maria, which has been helping young people for more than 130 years. This year we're pledging funds to help support their Lost Voices program, which offers girls in Vista Maria's residential care the support to express themselves through music, songwriting and performance. Eminem kick-started their fundraising with a $2,500.00 donation. S.A.Y. Detroit doubled that amount with a $5,000.00 grant.
According to Nicole Lewis, chief marketing and fund development officer at Vista Maria: The Lost Voices program offers two, five-day expressive therapy workshops for approximately 40 girls receiving residential treatment and care at Vista Maria. Many of the youth served in Vista Maria's residential treatment programs come from impoverished backgrounds and have limited exposure to fine arts and musical education. Most of them are there to escape lives of abuse, neglect, and exploitation. Bringing the Lost Voices program to Vista Maria's campus vastly expands their ability to work through their prior trauma and express themselves through music.
Detroit Rescue Mission Ministries' Dignity Project

Just over two years ago, the Detroit Rescue Mission Ministries launched an important program called The Dignity Project to help victims of human trafficking. This program provides safe shelter and loving care to victims, giving them time to address their legal, medical and emotional needs. They received a gift of $10,000.