A History of Serving Dignity & Hope
S.A.Y. Detroit improves the lives of Detroit's neediest citizens through shelter, food, medical care, volunteer efforts and education. It serves as the umbrella organization for ongoing major projects, such as Working Homes / Working Families and the S.A.Y. Detroit Family Health Clinic, servicing a population from infants to senior citizens, and veterans. It also supports dozens of likeminded charities in the Detroit area through funds raised at Albom's annual December
Radiothon
, broadcast live on WJR (760 AM) from Somerset Collection in Troy, MI.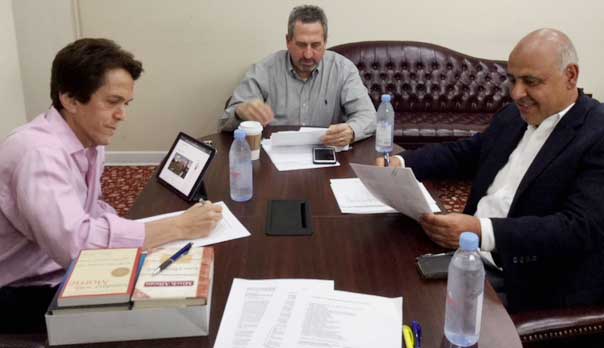 Mitch Albom, S.A.Y. Detroit Founder (left) and Chad Audi, CEO of Detroit Rescue Mission Ministries (right).
Our new expanded leadership will better serve our programs, provide governance and steer the nonprofit toward a sustainable future by ensuring that it has adequate resources to advance its mission.
Board of Directors
Rob Orley, O2 Investment Partners
Arn Tellem, Detroit Pistons
Damon Keith, Federal Judge
Cynthia Ford, Philanthropist
Charlie Rothstein,  Beringea
Dennis Archer, Former Detroit Mayor
Al Papa, Cambridge Consulting Group
David Provost, Chemical Financial Corporation
Chad Audi, Detroit Rescue Mission Ministries
Mitch Albom, S.A.Y. Detroit
Carmen Harlan, TV Broadcaster
Advisory Board
Dave Bing, Former Detroit Mayor
Jack Aronson, Artichoke Garlic Foundation
John Prosser II, Health Partners
Faith Fowler, Cass Community Social Services
Dr. Richard Keidan, Medical and Surgical Oncology, Beaumont Hospital
Keith Stephenson, Cooper-Standard
Carole Kowalczyk, Michigan Center for Fertility and Women's Health
Paul Glantz, Emagine Entertainment
Dave Scott, Motown Digital
Linda McIntosh, Somerset Collection
Walt Wheeler, Michigan Masonic Charitable Foundation