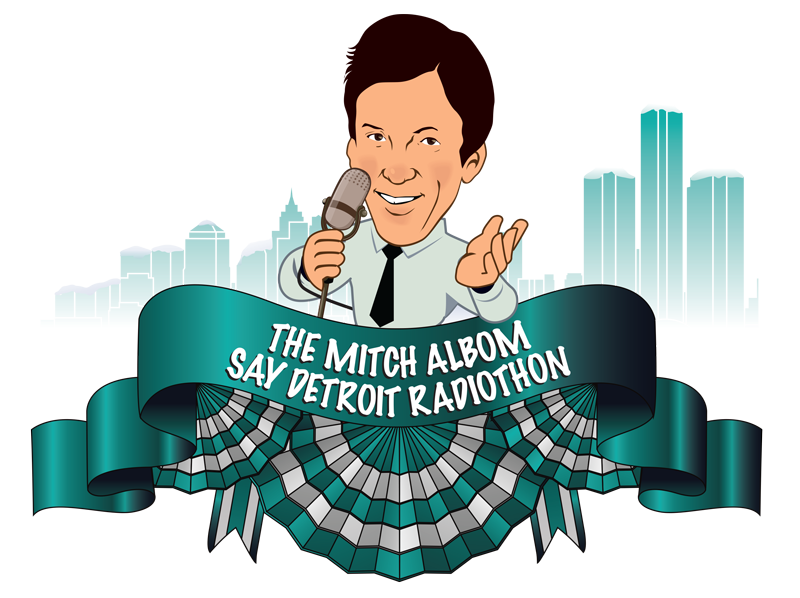 DECEMBER 10, 2020
6 AM – 9 PM
All-day fun for better days in Detroit!
ABOUT THE RADIOTHON
-Donate, buy, and bid on auctions at www.mitchalbomradiothon.com
-Toll-free number: 1-855-955-GIVE (4483)
-Gift cards and autographed memorabilia are available as donation incentives. Donors may also bid on auctions for one-of-a-kind experiences.
-The day's entertainment brings together all parties—the people who benefit from these charities, famous folks who wish to call attention to them, and people who wish to help
ABOUT SAY DETROIT
-SAY Detroit was founded in 2006 by Mitch Albom as a fully formed 501(c)(3) charity aimed at improving the lives of the neediest citizens, through shelter, food, medical care, volunteer efforts and education
-100% of all funds raised go directly to those in need
-The seven previous radiothons have raised over $7 million help the poor, the homeless, families without homes, children without medical care, students hoping to reach the college of their dreams and veterans who have hit hard times.
open the viewer above and click the share icon to add this to your website or social media
Embed the live stream code on your organization's website or company intranet.
Please feel free to use any or all of the images above in a post on social media or an email as you best see fit. The best messages are ones that let your audience know when you'll be on and how they can participate:
when (December 10th!)
where to watch and donate: www.mitchalbomrdiothon.com
if you've generously donated any items for an auction, please do let your fans know!
don't forget to add the hashtag #SAYDetroit and tag @saydetroit or @mitchalbom in your posts
Prior to the Radiothon
I'm joining the @saydetroit radiothon on Dec 10 at [time]! @MitchAlbom is hosting 15 hours of fun for better days in Detroit. Watch + give at http://www.mitchalbomradiothon.com
Join us on Dec 10 for hours of entertainment, auctions, and hear the stories of those being helped by #SAYDetroit. www.mitchalbomradiothon.com
SAY Detroit's improves the lives of its neediest through health care, housing, food, and education, and that's why we're proud to join the 9th annual radiothon. For 15 hours, @MitchAlbom and friends and folks helped by #SAYDetroit's good work, will be broadcasting live on WJR 760 AM and streaming at https://www.mitchalbomradiothon.com. Join us!
During the Radiothon
#SAYDetroit radiothon is happening now! Watch, bid, buy, donate at http://www.mitchalbomradiothon.com or 855-955-4483. Catch @mitchalbom and guests like me on @wjrradio
I'll be live with @mitchalbom on the #SAYDetroit radiothon at [time]. Let's make that hour the highest in donations for #Detroit. Give at http://www.mitchalbomradiothon.com or call 855-955-4483
We're a proud sponsor of today's #SAYDetroit radiothon. @MitchAlbom and friends are broadcasting live for *15 hours* at www.mitchalbomradiothon.com and on WJR 760AM. Bid on one-of- a-kind auctions or buy must-have memorabilia, all benefitting Detroit's neediest with food, housing, health care, and education. Listen or watch for all-day fun for better days in Detroit!
The #SAYDetroit radiothon is ON! Watch live stream at www.mitchalbomradiothon.com and give today. 100% of proceeds benefitting Detroit's neediest citizens, from infants to seniors, veterans, and more!